Chapter 2: How to take notes using paper
Overview
It does not matter whether you take notes on paper or use a device as long as your notes are part of a note taking system. However, there is research indicating students who take notes remember more and have better understanding of the material (Mueller and Oppenheimer, 2014). The main advantaged of digital notes is that searching is faster and more reliable, as well as the ability to share notes with others. Of course, you could create a hybrid system, where you take notes by hand, and then enter them into a digital system. In many ways, this is the best of both worlds. For now though, we will look at paper-based note taking.
Most students have taken paper-based notes using notebooks, notepads, loose paper, cards, sticky notes, or any other available writing material. Taking notes is better than not taking notes, but as you read in chapter 1, it is best if you take notes systematically. The key aspects of a note taking system include:
Your notes have to be with you.

Your notes must be easy to access.

You must be able to capture information and ideas with the least amount of friction.

The information in your notes must be retrievable.

Your notes must be searchable.
The Cornell method
There are a number of paper-based note taking systems. One of the most famous is the Cornell method. It is designed to organize your notes while you write, and help you to review effectively so that you can remember important information.
You first download the template and print out as many sheets as you need. (Please print on both sides to save paper.) Or, just take out a piece of paper and draw the lines by hand. It really is up to you. Then write the name of the course, the topic of the lesson, and the date at the top. During the class, you write your notes in the right-hand section. You can include information, new vocabulary, draw pictures or diagrams, questions you have, or anything else you think is important. In the left-hand section, write keywords for the notes to the right. This will help you review later. The bottom section is the summary section. Once the class is finished, write down a summary of the main ideas for the class. You might need to use more than one sheet for a class if there is a lot of information.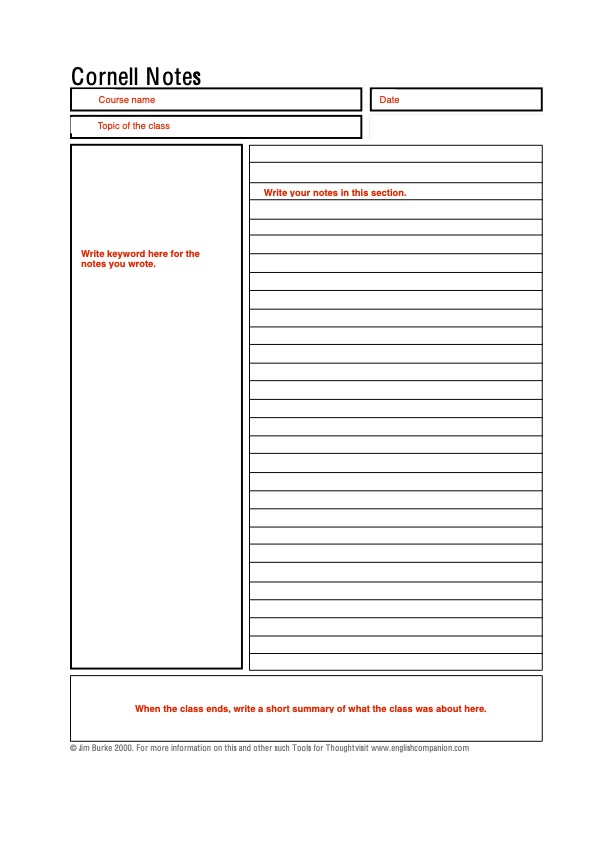 Once you have finished taking notes, writing the keywords, and summarizing the lesson, put your note sheet together with your other notes for the same class. You can put them into a folder or binder. Some people like to be able to mix up the sheets when they study, so that they are not reviewing their notes in chronological order. This helps people to remember information, and make connections between the notes.
The Cornell system is an inexpensive and effective way to take handwritten notes. Your only real cost is paper and ink. The system is flexible and you can search your notes by using the keywords in the left column. You also have a summary of every class at the bottom of the sheets which should help you when you need to do quick reviews of your courses.
The outline method
The outlining method uses a hierarchy for each main idea. You write down an idea, then indent a little and write down a subtopic. Under the subtopic you write down specific information, supporting facts, your ideas, or any questions you have. Most people use bullet points to indicate the separate levels. Some people use different colored bullet points to indicate the level. For example, use blue bullet points for main topics, orange bullet points for subtopics, and red bullet points for detailed information. The advantage of using colored bullet points is to make it easier for you to search through your notes for different types of information. For example, you might want to do a quick review and only look at the main topics covered in a class. For a more detailed review, you might want to look for yellow points to review the subtopics covered in all your classes. You would then use the red bullet points to study for a test or exam, or use them in a paper.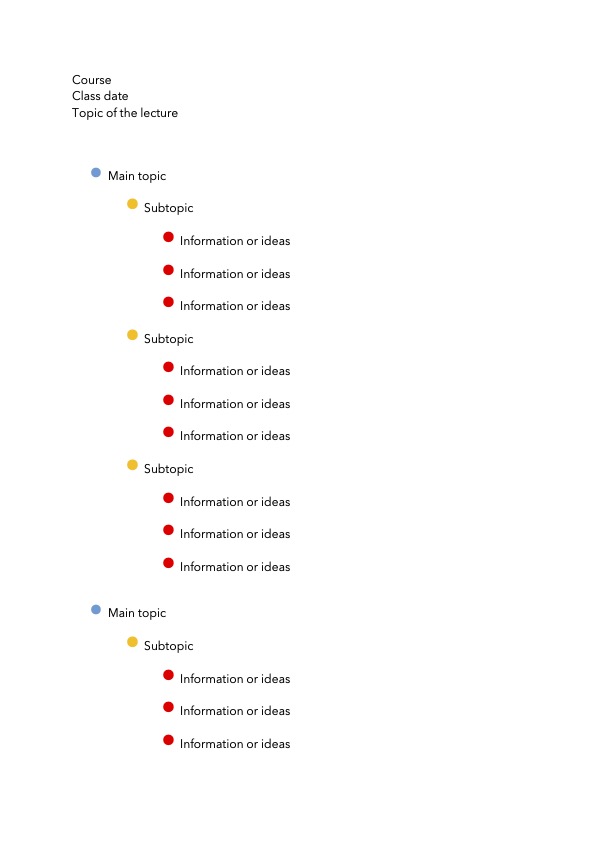 The outline method helps you understand how ideas are related to each other (topics and subtopics), easily shows you the different levels of information you have recorded, and is easy to learn and use.
The mind map method
Mind maps or idea maps are picture and text representations of ideas that shows connections between the ideas. This method is good for students who prefer to understand the world visually, and for students who want to understand how complex ideas connect to each other. For example, if you are studying history and want to understand the relationships between different events, a mind map might be the best choice for you. Below is a mind map describing the 2008 financial crisis.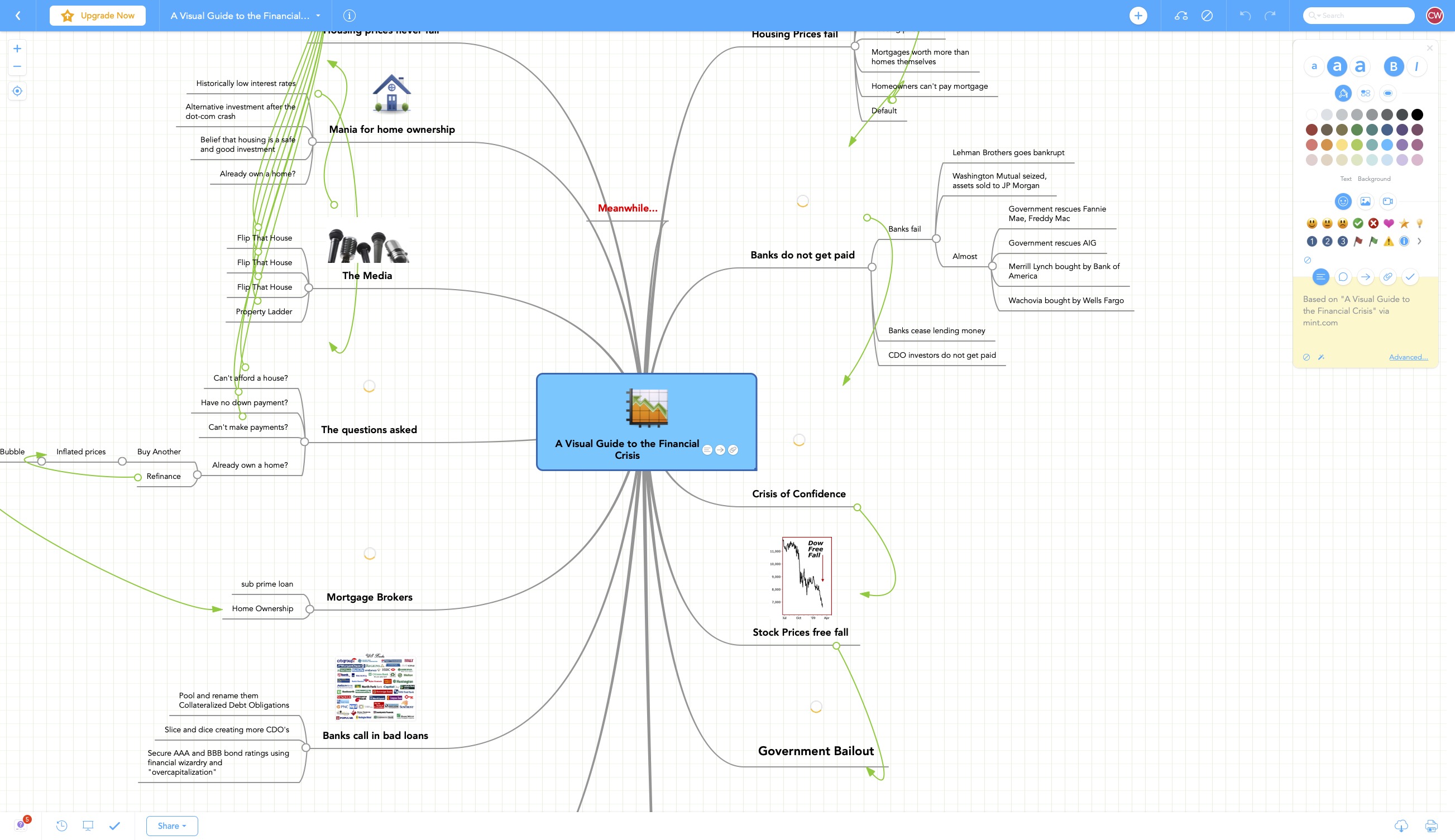 Mind maps are also helpful for people who dislike taking notes in chronological order, but prefer to connect ideas to each other. This system makes it easy to add information at a later time and still be understandable. In this method, you start out by drawing a circle in the middle of the paper and writing the lecture subject inside. For each main topic, make a circle and connect it with a line to the circle in the middle. Subtopics are connected to the main topic circles, and information and ideas for each subtopic are additional circles connected to the subtopic.
Mind maps can help you visually understand connections and relationships between ideas. However, it might be best to "translate" your mind map into another type of note method to help you study for tests and exams. People have reported that mind maps are useful for helping to understand journal articles and textbooks as well.
The column method
This is a bit similar to the Cornell method in that the paper is divided into columns. It is also similar to the outline method in that it uses a hierarchy of topic, subtopic, and details. One way to think about this method is that it is similar to the outline method but rather than going only down the page, this method goes across the page as well.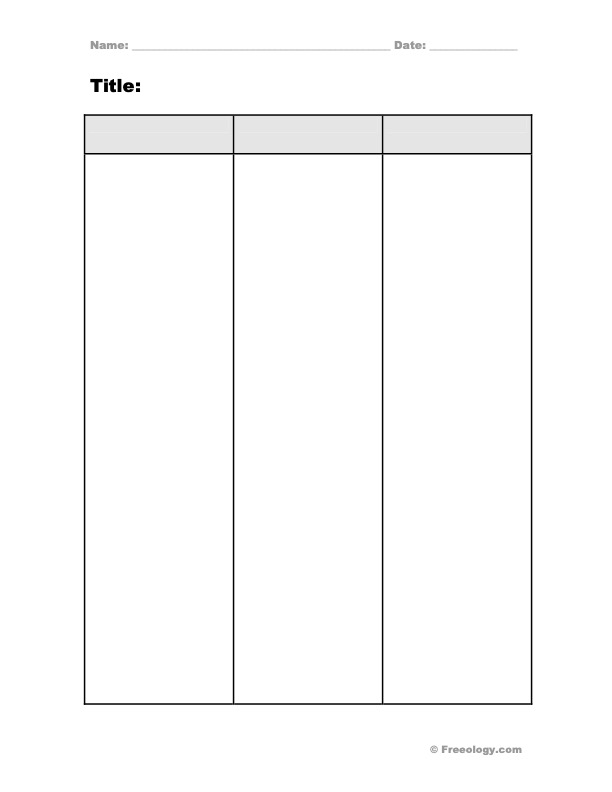 Each column is a topic covered during the class. For example, we might discuss three different kinds of note taking systems in class, such as the Cornel note method, mind maps, and the outline method. Each of these would be a topic and each one would be written at the top of the column. Then subtopics would be written for each topic. For mind maps, the subtopics might include the definition, benefits, and how to use it. If you need to add a topic, you can divide the paper in half vertically and write more, or just turn the paper over and make more column.
Pros and cons of paper-based note taking
The most important takeaway is that any kind of note taking is better than not taking any notes at all. Evidence indicates that paper-based notes help students remember ideas and concepts (Mueller and Oppenheimer, 2014), but for word and sentence learning computer based notes might be better (Aragón-Mendizábal et al., 2016). As in anything else in life, some things are better than others depending on the situation; or as Japanese people say, case by case. The different type of note taking methods also have their pros and cons, although the Cornell method seems to work best for most people.
While deciding on which system or method you will use, it is important to make sure your notes are retrievable and searchable. If you are like me, you might have trouble reading your notes, so you may want to consider reviewing your notes soon after taking them and rewriting them by hand, or turning them into digital notes. Even if you have clear handwriting, you still might want to convert the notes into a digital format. If you move your notes from paper to computer, not only will they become searchable, you have built in a procedure for reviewing and thinking about what you wrote. This step will help you remember and connect information, and will most likely increase your performance on tests and exams.
In the next section, we will dig deeper into the world of digital note taking and explore how you can leverage the power of digital devices not just to take notes, but transform those notes into study cards, concept maps, and essays. Meanwhile, you should begin to experiment with some of the methods described and see which one or ones feel most comfortable and help you remember what you learned. Most important though is to recognize that notes are useless without a review process.